1D to 3D Approach to Screw Sizing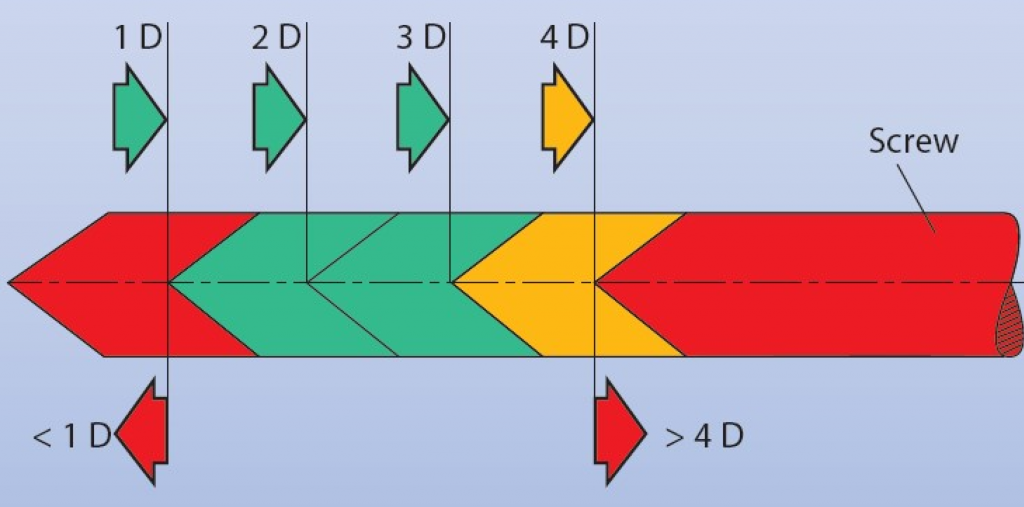 Find the optimum screw diameter for a given material and shot size
A widely recommended (but little understood) approach to screw sizing targets an injection stroke a stroke of 1 x the screw diameter (1D), to 3 x the screw diameter (3D) for the full shot size. The 1D to 3D approach is widely used by molding machine manufacturers, but the general molding public does not use it widely because it is believed to be complicated. One needs to calculate area, volume and have some knowledge melt density, which is different from density as a solid.
Read more about this approach. Download a technical document on this subject from Covestro titled Injection molding of high-quality molded parts – Production equipment/machinery, here.
Finding a simple way to do this
A number of IMM manufacturers offer charts and formulas for going through this process. It always seemed cumbersome to me, so I came up with a spread sheet to simplify things, loaded in melt densities gathered from various sources, and am offering this spreadsheet for your use.
This is just the first step in evaluating screw size, and injection unit specifications. All of the following items will come into play when deciding on the final configuration:
Screw diameter
Residence time
Recovery rate
Injection pressure
Screw geometry and metallurgy
I get involved with helping people spec new machinery, and I have found that this gets me off on the right foot very easily.
An Excel Spreadsheet You Can Download (link below)
This will help you target a few screw sizes in a few seconds, and then you can focus on recovery rates, residence time, and injection pressures to finalize your selection.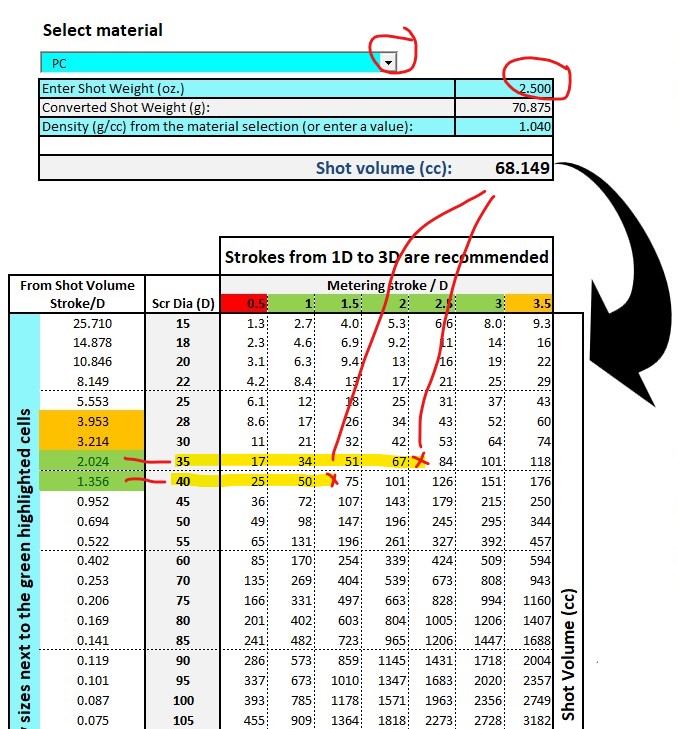 To use the spreadsheet, do the following:
The spreadsheet calculates the shot volume, and the column on the left shows in green where the screw diameter matches between 1D and 3D so you can select a screw diameter.
In this case the 35 mm screw will use 2.024D to inject the shot, and the 40mm screw will use 1.356D to inject the shot volume.
Your next step is to evaluate residence time, recovery time, and required injection pressure to select an injection unit and screw diameter.