Guill Medical Tubing Dies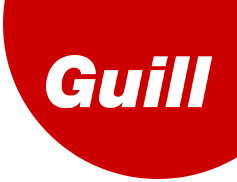 Guill Tool
is far ahead of their competition in extrusion tooling for medical tubing. As a company, Guill focuses on high technology, product development, and responsiveness to their customer's needs, and it shows up in their product. Guill is one of those unique companies that relishes a challenge and is eager to develop new, innovative solutions to process problems that companies may have been living with for years.
It all Starts with Flow Analysis

Guill performs this on all tooling as a first step

Guill utilizes Fluid Dynamics software from COSMOSFloWorks in order to analyze the flow characteristics of all of our designs.

COSMOSFloWorks functions directly inside of SolidWorks. This enables geometry changes to be calculated immediately. Exporting the CAD models to an external program is not necessary.

Guill Spiral Flow Technology

Uniform Wall Thickness

Fixed Center or Adjustable

Feather Touch Available

More Control of Product Size

No Stagnation or Burning

A Single Layer Head

The most basic, user-friendly head.

Ease of assembly, disassembly, and cleaning.

Tapered, locking defector eliminates leakage.

Outside product diameters as small as 0.006″.

Our patented "Feather Touch Adjustment" provides fast, easy, and positive concentricity adjustment without "jumping".

Quick change tooling.

Easily adapts to multi-lumen and profile applications.

6 Layer Tubing Head

Proven to hold tolerances better than 0.0002″.

Easily converts to alternate layering, multi-lumen, & striping applications.

Quick change tooling.

"Feather Touch Adjustment" is available.

More complex and intricate than single layer head.

More parts to assemble, disassemble, and clean

Single Layer, Multi-Lumen

Micro-Adjust

This patented technology allows for extremely accurate concentricity adjustments for precision small and micro tubing. There is no need to loosen any bolts. Simply turn one screw on each of the two major axes with the micro thread adjustment screw to adjust concentricity.